First Big 'Open House Event' in Aruba and Curacao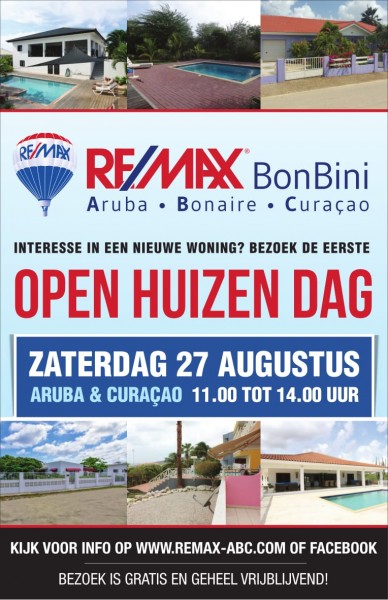 Next Saturday, August 27th, the first big "Open House Event" will take place simultaneously on the islands of Aruba and Curacao.
Between 11am and 2pm, visitors can freely visit many homes without an appointment. This day is organized by real estate office RE/MAX BonBini.
How does it work?
People who are interested to see the houses that participate in this event can visit www.remax-abc.com to find a selection of participating homes under 'featured Listings'.
This website has photos and various information about the houses and of course the asking price.
It is easy to find the exact location of each hous with the help of Google Maps. Just click on the tab 'map' to get this information on your screen.
With this tool you can plan a route of the houses you wish to visit. The event is free and there are no strings attached.
Not simple enough? People who want to see the houses but do not wish to plan a route, can send an email to info@remax-abc.com or call +5999 462 9770.
Future
This is the first time an 'Open House Event; is organized on the ABC islands. Mr. Hans Vervoord of RE/MAX BonBini expects that the event will surely be a success. "In the Netherlands, the "Open Huizen Dag' has been a great success for years," says Hans Vervoord, "People always like to see other people's houses. Especially if they are looking to buy a new home themselves."
When the day on both islands is successful, RE/MAX BonBini next 'Open House Event' will be even bigger. Even more houses on both islands will open their doors on the same day for visitors than in this first edition.
For a list of participating houses go to www.remax-abc.com and click 'Picks' or visit www.facebook.com/remax.abc
Date: August 24, 2016